I see a lot of romance novels around with Scottish heroes. I blame Sean Connery for that because on the ranking of International Hotties, how can the Scottish rank so high?
The main issue/s as I see them are this - you can't understand their accents (I can understand Chinese more easily than I can understand Scottish) and they drink too much. The real problem starts when you put those two things together.
I went out with a Scottish guy and I could barely understand a word he said. As he drank, it got worse. Then he'd get pissed off and say he didn't have an accent and everyone acted like they couldn't understand to piss him off.
Erk!
What attracts women? Is it their kilt? Their sporran? The firey red hair? The aloof and wild head of a clan in a remote place just waiting to be tamed by a woman's touch?
Am I missing something important about Scottish men?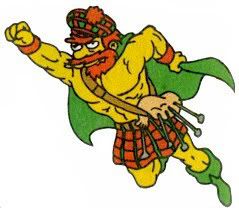 What do you think? Scottish men - hot or not?